---
Posted by Nancy Haywood on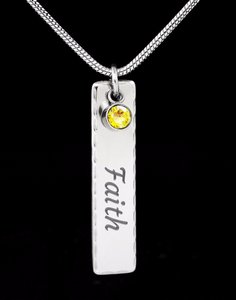 What's your birthstone? Mine's amethyst and I love wearing it.  During ancient times, it was widely believed that wearing your birthstone was a symbol of wellness and good fortune. Continue that belief with this simple, but elegant pendant. Not only can you have your precious birthstone on the pendant, but also have your name engraved.   As each person is different, so are the birthstones and their beauty. This would also make such a meaningful gift. If you order now, you will receive 10% off your purchase. Use code 10NOW.  Be well, and harness the power of your stone. PS...
---
Posted by Nancy Haywood on
Don't worry! You don't have to have musical talent. I'm talking about being the Rockstar Shopper & Gift-Giver! It all started with trying to find something to give my mom for her birthday. What to give the person that seems to have it all, right? I wanted to give her something special and uniquely for her. One thing I know she loves more than anything are her grandkids. Since I couldn't pack them up and ship them to her, I did the next best thing. I uploaded a picture of her grandkids to be created into a pendant and the...